Introduction
It's hard to believe that it was more than two years ago that the final version of the 5th Anti Money Laundering Directive (5AMLD) was published in the Official Gazette in the European Union.
Annex III to the 4AMLD provides a non-exhaustive list of factors and types of evidence of potentially higher risk factors, references in Article 18(3) (Enhanced Due Diligence or "EDD"). The 5AMLD amended this list to add a new customer risk factor:
(g) customer is a third country national who applies for residence rights or citizenship in the Member State in exchange of capital transfers, purchase of property or government bonds, or investment in corporate entities in that Member State. ("golden visas")
When is a Golden Visa Truly "Golden"?
While there has been some notable reports criticizing golden visa schemes, most compliance staff are unfamiliar with these types of visa schemes and how they operate.
So, what exactly is a golden visa? These schemes typically fall into two categories: Citizenship by Investment ("CBI") and Residency by Investment ("RBI") schemes ("residency visas").
There can be perfectly legitimate uses of CBI and RBI schemes while there are others that can be more susceptible to misuse. The OECD, for example, maintains a list that identifies jurisdictions with CBI/RBI schemes that present a high risk of being misused for circumventing CRS reporting (and potentially being misused to evade tax obligations).
Golden visa schemes are often misused to conceal an illicit actor's connection to a jurisdiction which may be seen to pose a greater financial crime risk. Some may even use the proceeds of crime to make the necessary investment. But these schemes can also be misused in more complex ways, that may require more advanced KYC knowledge to detect them, as the following case illustrates.
2019 - United Kingdom RBI Scheme
In December 2019, a decision of England's Upper Tribunal upheld a decision by the Home Office to deny the RBI visa applications of two Chinese citizens ("applicants"). The RBI visa criteria is somewhat complicated but, to keep things simple, a large amount of money must be invested in one of a number of specific assets, such as government bonds, shares in local companies or local real estate. Investing in a fund that specialised in share capital or loan capital in active and trading UK registered companies, would also satisfy this requirement.
Key to this is that the applicant must wholly control the proceeds and the assets acquired with them.
The two applicants were referred by personal contacts to a company who offered specialist visa services to obtain these types of visa, called Maxwell Holdings Limited ("Maxwell"). In exchange for a fee of £200,000, Maxwell would open a bank account in the UK for the applicants and assist them with the arrangements necessary to obtain an RBI visa. One of these services was to arrange for an investment that would satisfy the RBI visa's criteria.
Maxwell arranged for the applicants to each receive a loan – one for £1m and the other £5m – via an asset management company called Maxwell Asset Management Limited ("MASL") in the UK. Maxwell acted as guarantor for the loan repayments and the timely execution of its repayment.
It turned out, however, that the loan and subsequent investment was found by the Home Office not to satisfy the RBI scheme's requirements for the following reasons:
Loan Agreement
Under the agreement, MASL had full control over how the loan proceeds would be invested; the applicants had no say on how the loans were invested
Offered no ability to terminate the agreement without the other party's consent
MASL had not asked for a charge over the applicant's assets as security for lending the money


How the Loans Were Invested
The loans were never paid to the applicants. Instead, the proceeds were invested in a company called Eclectic Capital Limited ("Eclectic")
In exchange for the investment, the applicants received preference shares in Eclectic
Eclectic's UK investments consisted of 4 companies with operating at an overall loss of -£434,000. Most of Eclectic's investment activity in the past had been focused on Russian companies.
Someone at the Home Office had done the math, referring to Eclectic's articles of association. They determined that the investment made no commercial sense because:
The rate of return for the preference shares was poor and are unlikely to attract investors
Funds were converted from a loan with a 3.05% interest rate into preference shares which attracted a lower rate of returns, which meant the applicants were guaranteed to lose money
The preference shares had to be held for 6 years. If they were redeemed earlier, the holder was entitled to nothing. After six years, they could be redeemed only at their nominal value
The applicants could only then sell their shares with the consent of the majority ordinary shareholder
The loan agreement with MASL was for a term of five years. The applicants would be required to repay the loan before they received any return whatsoever from the investment in Eclectic.
Ownership and Control
More interesting was who owned and controlled Maxwell, MASL and Eclectic: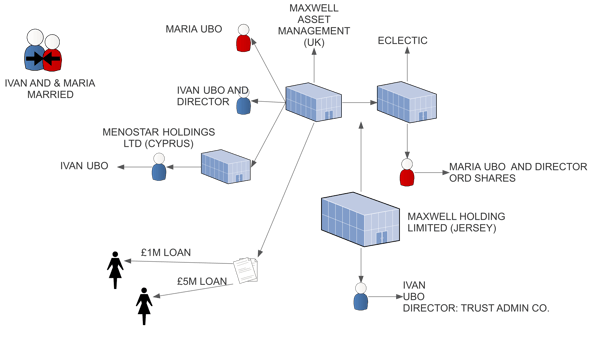 It turns that a married couple, let's call them Ivan and Marie, were the owners and controllers of all of them. And those UK companies that Eclectic had invested in? With the sole exception of one business, Ivan was the Director and/or a shareholder of all of them.
Based on the above information, the Upper Tribunal concluded that both applicants had failed to meet the RBI visa criteria under this investment scheme. The applicants were found to NOT have control over the investments.
Onboarding and Ongoing Customer KYC
Even though this case was not alleged to involve financial crime, it provides some insight into how some golden visa holders may require further scrutiny.
The devil is in the detail…
In this case, the details about loan arrangements were not initially disclosed by the applicants in the RBI visa applications. They only disclosed their investment in Eclectic. In other words, they disclosed the assets held in their name, but not the source of funds used to acquire those assets.
Only once the loan agreements were provided, along with Eclectic's accounts, was the Home Office better able to determine the nature of the investment involved, and the extent to which it was actually investing in UK companies.
This is why, for KYC purposes, it is essential that staff not only request evidence of a customer's source of wealth and funds when dealing with a customer holding a golden visa, but to also read and analyse the terms of any commercial agreements that underly them.

In this case, only by analysing the terms of the loan agreement and the preference shares, was the Home Office able to determine that the investment was a "dead duck", with no genuine UK-investment involved.
Beneficial Ownership and Control


In AML/CFT cases, we often talk about how illicit actors may seek to conceal their identities while continuing to exert control over a business. The opposite was the case here. The applicants told the Home Office they were legitimate shareholders of a UK company. The problem, of course, was that the applicants had no control over that investment.

Akin to what we call a "straw man", these investment arrangements simply allowed the applicants to hold out that they had control over the loans and shares, when in fact, control remained at all times with Ivan and Maria.
Concluding Thoughts
Understanding how golden visas operate can help AML/CFT compliance teams better focus on particular risk factors that may indicate their possible misuse. Being able to identify questionable investment arrangements requires careful consideration of the supporting documentation and the level of control actually held by the customer over them. Because as this recent case shows, not everything that glitters is gold.